Hits: 5
"England have done really well developing women's football. In the league and national team, you can see the steps they are making."
By Matthew Treadwell
Last Updated: 14/05/19 5:59pm
Vivianne Miedema believes a successful World Cup for England could help further raise the profile of the women's game in the country.
The Arsenal striker was part of the Dutch side that won Euro 2017, something that helped massively boost the sport and the players in the Netherlands.
She feels a similar result for Phil Neville's side in France this summer could help the women's game in England and build on the growth of the Women's Super League (WSL) in recent years.
"It raised the profile so much – I can't really go into Holland without getting recognised," Miedema said of the Netherlands' Euro 2017 victory when she spoke to Sportswomen.
"We have got a sold out stadium within 10 minutes and 40,000 people are coming to the game.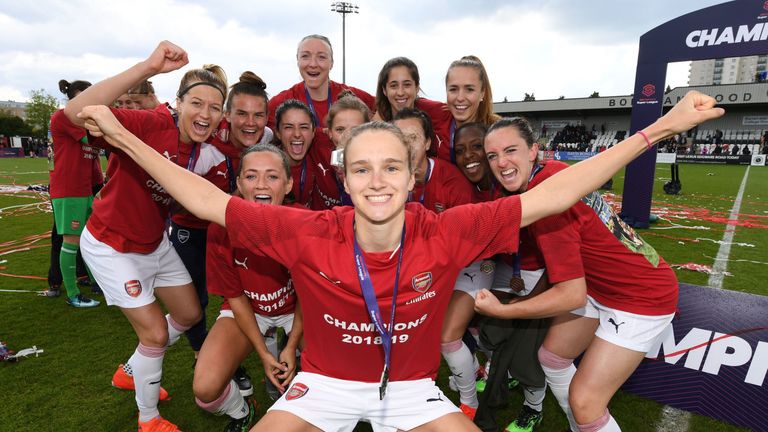 "England have done really well developing women's football. In the league and the national team, you can see the steps they are making.
"It will be amazing if people start saying 'We are going to a women's football game' – that's what you need, and with the World Cup coming up and the Euros in England (in 2021), it will definitely change and become bigger.
"I hope that is the change that England are going to make – when people start recognising and realising who women players are. That would be amazing.
"I think they will do well at the World Cup and if not, at the Euros."
Meidema has enjoyed a stunning season with the Gunners after a frustrating start to her time in England with injury after joining the club in May 2017.
She scored 22 goals – with her ratio better than a goal a game – as Arsenal won the WSL title for the first time in seven years, earning herself the personal accolade of PFA Player of the Year.
Meidema admits winning the league has still not sunk in, but hopes to add more silverware to her collection during her time at Meadow Park.
"It feels amazing, I still need a bit of time to believe what we have done," she added.
"We've had an amazing year and I am really glad I can finally help the team out and score some goals.
"I'm still young, 22, and I've probably still got 10 years. I just want to show again next year what I have in me and that it's not just for one season.
"I want to win the English league a couple more times and I want to win the Champions League.
"I'm really happy right now at the club and I can't see myself moving anywhere else. I love the way we play football, I love the fact we won the league.
"We've got an amazing team and I just want to develop and win the Champions League. We will just see how long I stay here but I am really happy right now."